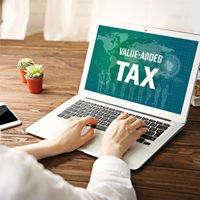 A market trader who fraudulently submitted dozens of fake VAT returns in order to steal almost one million pounds, has been jailed for three years.
Terence Sickelmore, who co-owned Dairy World, a dairy products business based in Exmouth Market, in Devon, used his company accounts to create 95 fake VAT returns over an eight year period.
He was finally apprehended when HM Revenue & Customs (HMRC) tax investigators reviewed his tax returns and discovered a number of irregularities.
The tax fraudster was found out when sharp-eyed tax investigators spotted that the turnover declared in his income tax self-assessment was ten times less than the amount he claimed in VAT.
Sickelmore immediately confessed to faking the VAT repayments totalling £913,729, which he admitted he had used to fund his gambling addiction.
At Exeter Magistrates Court, he pleaded guilty to VAT fraud, admitting to magistrates that his gambling had spiralled out of control, leading to him placing bets at the bookies on his way to open up the stall and then gambling via online casinos as soon as he got home.
He was later sentenced by Exeter Crown Court to three years in prison.
Zoe Ellerbeck Assistant Director of HMRC's Fraud Investigation Service, said: "Sickelmore abused his position as a business owner to steal huge amounts of money that should have been used to fund public services. He chose to fund his gambling by stealing from UK taxpayers."
Dr Anjulika Salhan, a Director and Head of Salhan Accountants' taxation investigation advice team, said: "Only a minority of individuals intentionally set out to defraud HMRC, but those that do face the full force of a criminal investigation and prosecution.
"However, there are many people who unwittingly break HMRC's tax rules and find they are under the spotlight of a tax investigation.
"At Salhan Accountants, our team work extremely hard for clients subjected to a tax investigation. We not only clarify the issues and the process, but come up with solutions too."
For more information about our taxation investigation services, please contact us.