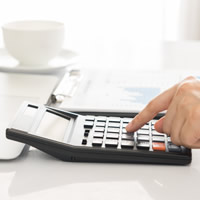 Four restaurant owners were found 'cooking the books', after an HMRC investigation uncovered an £800,000 tax fraud.
The fraudsters, who ran the Panache chain of Indian restaurants in Sutton Coldfield, Stafford and Lichfield, received jail sentences totalling 10 years for evading VAT and falsely claiming tax credits.
Mohammed Sharif Uddin, Mizanur Rahman and Sadiqur Rahman, all from Wednesbury, together with Abul Kamal from West Bromwich, were all found guilty of tax fraud.
HMRC's tax investigators discovered that the four fraudsters had evaded tax by hiding the majority of their cash takings and had even pocketed tips meant for their staff.
The fraudsters also stole £295,000 in tax credits by lying about their income.
The Rahmans, who additionally failed to pay £240,000 VAT on the sale of their Stafford and Lichfield restaurants, were each jailed for three years. Uddin and Kamal both avoided jail, receiving suspended two-year sentences.
Sentencing the four men at Birmingham Crown Court, Judge William Edis QC, said: "You systematically, regularly and frequently under-declared sales at the Sutton Coldfield restaurant and kept shadow books that showed the true picture."
HMRC has already recovered £538,000 and has launched confiscation proceedings to reclaim the remaining money.
Dr Anjulika Salhan, a Director and Head of Salhan Accountants' taxation investigation advice team, said: "As experts in taxation investigations, we know from first-hand experience that restaurants and takeaways often come under scrutiny from HMRC.
"It is not unheard of for tax inspectors to pose as customers, to check how cash transactions are dealt with and whether all payments are being correctly declared within VAT returns.
"As this case illustrates, HMRC have wide-ranging powers to investigate tax breaches, with deliberate tax fraud leading to a criminal prosecution.
"Of course, only a minority of individuals intentionally set out to defraud HMRC. Many restaurant owners may find they are under the spotlight, having unwittingly broken HMRC's tax rules.
"At Salhan Accountants, we work extremely hard for clients subjected to a taxation investigation. We not only clarify the issues and the process, but come up with positive solutions too."
For more information about our accountancy and VAT services, please contact us.